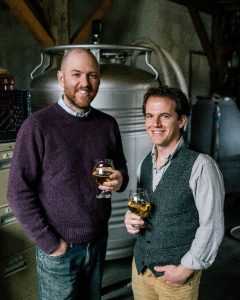 The curtain rises in the late 2000s on the college town of Middlebury, Vermont. Recent graduate David Dolginow has begun working at Sunrise Orchards in the nearby town of Cornwall, and the Green Mountain State is really beginning to exert its pull on the Kansas City native. He's wearing more wool, he's putting snow tires on his car, and—perhaps most importantly—he's developing his friendship with Colin Davis, another Middlebury alumnus: "in a town of eight thousand people… you get to know everybody pretty quick."
David's orcharding skills are coming right along, and he's pondering his own food business. Colin's engineering mind is on the same wavelength, and over many a bottle of Farnum Hill (the pioneering New Hampshire craft cider) and Isastegi (the benchmark Basque), a plot is hatched—a plot to capture the unique terroir of the Champlain Valley in pure liquid form. Shacksbury Cider has been born.
A word on the Champlain Valley and its perfect apple-growing conditions is in order. For hundreds of years, apple trees have not only grown there but have positively thriven, their roots anchored in freely-draining (but just water-retentive-enough) Nellis stony loam, their crowns watered with ideal rainfall, their arboreal reset buttons pressed by long, cold winters. The presence of a wide palette of high-acid, high-tannin wild and heritage apple varieties nurtured in such conditions was all the impetus our enterprising young duo needed—although, as we will see, they do look farther afield.
The ciders themselves? Dolginow and Davis seek to produce authentic farmhouse cider. This is no amorphous idea; aside from the use of foraged and heritage varieties mentioned above, this means: slow, mostly native-yeast fermentations, minimal sulfur and filtration, and long aging on the lees before bottling. This past-conscious method does not, however, imply a refusal to look forward. The core ciders (Dry, Semi-Dry, and Arlo) are all packaged in nifty 12-oz cans, and, in a unique malic tour du monde, incorporate varying percentages of juice from Dragon Orchards in Herefordshire, England and Petritegi Sagardoa in Spain's Basque Country—although to this day, the majority of Shacksbury's apples hail right from Sunrise Orchards, Dolginow's apple alma mater. (The balance of Vermont-sourced apples may be shifting, though, as plantings and graftings for an estate orchard have already begun on Davis' own property.)
Outside of this core line, the Shacksbury crew produce a range of ciders under the moniker "Lost Apple" made mostly from wild-foraged Champlain Valley apples. In most cases, the exact varieties comprising these rich, bone-dry, terroir-driven marvels are not even identifiable; all that is certain is Shacksbury is serious about bottling these dwindling local resources for our enjoyment. (Live in the area and have "lost" apples on your property? Let them know here—they'd love to harvest them!)
Ever restless and experimental, the team has turned most recently to riff on the Italian tradition with Spritz, a low-ABV summer sipper lightly sweetened with Vermont maple sap and subtly aromatized with grapefruit and rose petal. (Yes, it's as fun as it sounds.)
Core Ciders: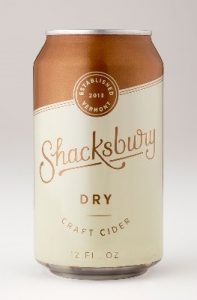 Light and crisp
Apple varieties – Jonagold, Spartan, McIntosh, Empire, Ellis Bitters, Browns, Michelin, Somerset Redstreak, and Dabinett
Apples grown by Sunrise Orchards in Cornwall, Vermont and Dragon Orchards in Herefordshire, England
Slow, partial native yeast fermentation and aged over six months
12oz cans, 6.5% ABV
Residual sugars – 4 g/can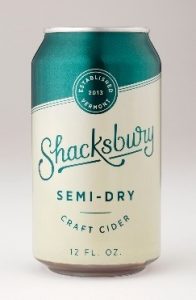 Shacksbury Semi-Dry Cider Cans
Robust and fruity
Apple varieties – Jonagold, Spartan, McIntosh, Empire, Ellis Bitters, Browns, Michelin, Somerset Redstreak, and Dabinett
Apples grown by Sunrise Orchards in Cornwall, Vermont and Dragon Orchards in Herefordshire, England
Slow, partial native yeast fermentation and aged over six months
12oz cans, 6.5% ABV
Residual sugars – 8 g/can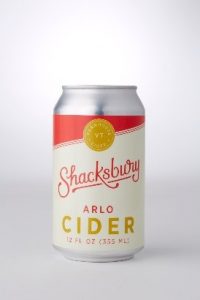 Aromatic, grapefruit, lightly sparkling, and dry
Complex and assertive with a vibrant acidity
Apple varieties – A blend of eating apples from Sunrise Orchards in Vermont and Basque bittersweet apples
Native yeast fermentation in stainless steel and aged for 3-6 months
12oz cans, 6.2% ABV
Residual sugars – 0 g/can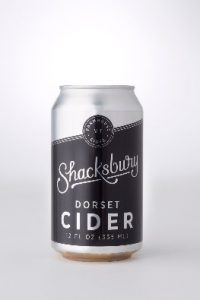 Dry and approachable cider produced with wild apples
Red berry and slate
Apple sources – wild apples from the Dorset mountain area of Vermont (50%), cultivated varieties form Sunrise Orchards in Cornwall Vermont (40%), and Spanish cider varieties from Petritegi Sagardoa (10%)
Native yeast fermentation
Residual sugars – 2 g/can
12oz cans, 6.2% ABV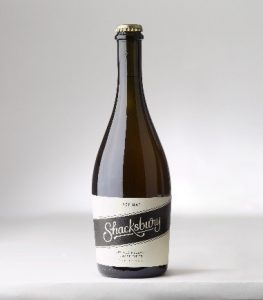 Shacksbury 'Pet-Nat' Dry Vermont Cider
The first American-made pétillant naturel cider
Methode ancestrale, or pétillant naturel, is a traditional winemaking process of carbonation, where the cider finishes its primary fermentation in the bottle, capturing the tail-end of the carbon dioxide created during fermentation
Complex yet fruity and approachable
Wild apples from Vermont
Native yeast fermentation
Residual sugars – 0 g/bottle
750ml, 6.7% ABV
Shacksbury 'Lost and Found' Dry Vermont Cider
Weighty, floral nose, apricot, salt, wood
A blend of foraged and cultivated cider apples from the Champlain Valley of Vermont
Native yeast fermentation, no added sulfites, unfiltered
Bottle conditioned for light effervescence
750ML, 6,7% ABV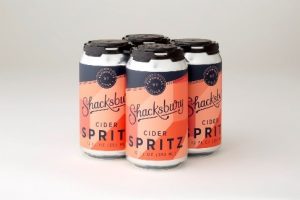 Low ABV session cider inspired by the classic Italian spritz tradition
Light body with citrus and floral notes
Apple varieties – McIntosh, Empire, Cortland, Red Delicious, and Macoun
Apples grown by Sunrise Orchards in Cornwall, Vermont
Sap produced by Runamok Maple in Cambridge, Vermont
Natural elixir (rose petal, grapefruit) produced by Alice & the Magician in Burlington, Vermont
Aged for 2 months
12oz cans, 3.8% ABV